Our learning environment encourages each individual to be confident and committed to achieving their full potential.
Charles La Trobe P-12 College is one of Melbourne's most innovative schools offering the latest in educational facilities and programs for students from Prep to Year 12.
Our exciting new P-12 College, which is the main campus of Charles La Trobe College, is located in the northern suburb of Macleod West, and is adjacent to La Trobe University. Quantum Victoria, which is one of six state specialist Mathematics and Science Centres, is collocated within our College.
In addition to the main campus, there is a second smaller campus, the Olympic Village campus which offers a Prep – Year 4 environment with the same high quality programs. The Olympic Village campus enjoys the benefits of a small school with strong community ties.
The College is divided into 3 'mini' schools matching the stages of learning.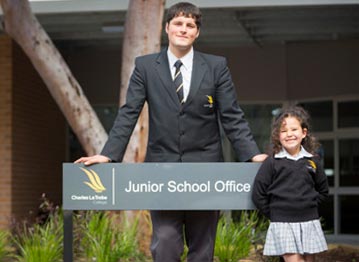 Join our Newsletter List